Reviews and essays / March 2014 (Issue 23)

Under the Canopy and Other Poems: English Poetry in Brunei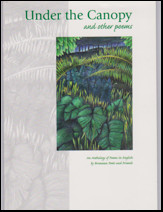 Under the Canopy and other poems, which first came out in late 1998, was the first ever English-language collection of poems produced in Negara Brunei Darussalam—although "Bruneian poems written in English" is perhaps a more appropriate designation for the work found in its pages.
I was the editor, along with a fellow Anzac, Dr. Alan Chamberlain, who was then teaching at Universiti Brunei Darussalam. I was employed to teach English at a secondary school level by the Centre for British Teachers, who—along with HSBC and The British Council—sponsored this collection. At the time, I had already been living in Brunei Darussalam for four years.
Why did we seek to compile English-language poetry as written by Bruneians? Because I had seen that many of my students were genuinely interested in writing poetry. There is a very long tradition of writing poetry—especially sajak and ghazal and pantun—in Bahasa Melayu in Brunei Darussalam (for example, the epic Syair Awang Simawn), but here I was teaching English as a second, or in some cases a third language, and finding excellent English-language poetry written by non-native speakers. More significantly, they were informing and infusing their work with themes and imagery from their homeland, so as to make for a distinctive Bruneian poetry in English.
I therefore felt the need to collate what I was reading—often published in the Borneo Bulletin—and thus began chasing up local poets. Alan Chamberlain was also researching the best ways to teach literature, especially poetry, in Bruneian classrooms, and he had encountered other examples of what I was seeing, so he became a natural ally for this project.
Of course, English-language poetry developed much later than the dominant Bahasa Melayu opus, and it is also worthwhile noting that several poets writing in Melayu later deliberately translated their poems into English, so as to be able to reach a wider audience. "During the same period [early 1970s], prominent Bruneian Malay poets devised a strategy to sell their work regionally by translating their poetry into English," noted one such poet, Irwan Haji Abdul Rahman, in 1998.
I was also tied—synchronistically—to Irwan Haji Abdul Rahman, who was the first Bruneian poet to be published in English, in the Borneo Bulletin in January, 1992. We taught at the same school where I was also Head of the English Department and where I soon learnt of Irwan's interest and ability in writing English-language poetry—some of which, of course, found its way between the covers of this collection, for which he also penned an introductory piece entitled "History of English Language Poetry in Brunei Darussalam."
Synchronistically, too, James Norcliffe—a leading international poet (whose accomplishments include being a finalist for the Proverse Prize, an invited artist the XX Medellin International Poetry Festival in Colombia and a former Robert Burns Fellow) was teaching at the same school—it was he whose position as Head of Department I took over! It all seemed as if fate had meant for Under the Canopy to be produced.
Thus the anthology came to be, as Alan and I sourced and scoured and advertised for poems throughout the country—and they rolled in from far and wide, from Temburong to Kuala Belait. Not just from locals either—for we had contacted Malaysia's own internationally known National Laureate, Muhammad Haji Salleh, and he was included. Goh Poh Seng and Ghulan Sarwar Yousof from Singapore also consented to be represented in the book, while another Singaporean who often came over to Brunei Darussalam, Anna Wang, also submitted her work.
There were some other expatriates then resident in Brunei, including Arif Khudairi, who were also all keen to submit. Arif Khudairi remains in Bandar Seri Begawan and is another writer with an international reputation: he too was invited to read in Medellin, Colombia and his 2011 anthology Love Poems of Arif Khudairi was published in Canada and was nominated for the Griffin Poetry Prize.
However, it was the local poets who really drove home the fact that the country not only had skilled writers of poetry in Bahasa Melayu, but also in English. Other than Irwan, there were Isa Shaminan, "Keris Warisan" aka Mohammad Haji Hassan, Peng Eng Lee, Abdul Ghanai Haji Daud, "Lone Wolf" aka Haji Maswady Haji Amjah—and a myriad of younger poets. In fact, such were the quality and quantity of submissions, we had trouble deciding which poems and poets to leave out!
You may well be asking, however, "What of the present situation in Brunei Darussalam as regards to English-language poetry?" Hannah Ho, a lecturer at the University of Brunei Darussalam's Faculty of Arts and Social Sciences sees the contemporary scene as being similar to the 1990s, with scattered individuals writing English-language poetry, often in some isolation. She notes, "As far as I know, there isn't a bustling or thriving English poetry scene in Brunei," while her colleague, Dr Kathrina bte DP Haji Mohd Daud concurs: "There are a lot of poets in Brunei who write (and publish) in English, but who tend to work in isolation, and who don't, as far as I know, have a platform for showcasing their work on a national level." One such example is the 2009 collection by Nurul Izzati Haji Mohammed Jamil, Young Dreams, distributed almost solely within the borders of the country. The same year, there was also an anthology edited by Arif Khudairi titled Insparasi, which, true to the polyglot nature of the country, incorporated Arabic, Malay and English poems. A more recent example is 2012's Tribute to Brunei and Other Poems, written by the expatriate Nigerian academic and long-term resident in the country, John Onu Odihi.
So there has not been a considerable change overall, then, in the systemisation of Bruneian poetry being written in English. Yet excellent poetry in English is still being written by Bruneian residents, and it is still being published in the pages of The Borneo Bulletin. There have also been more and more endeavours to kicktart other forums for English-language poetry. Take for example this Brunei Times headline from 8 September, 2012:
MSPSBS students get creative at slam poetry workshop
BANDAR SERI BEGAWAN: A 'Slam Poetry' workshop for students of the English Language and English Literature course continued at Maktab Sains Paduka Seri Begawan Sultan (MSPSBS), Borneo Bulletin reported. Richard 'Dreadlock Alien' Grant was at hand to teach the participants about slam poetry—a form of poetry, which is upbeat and exciting while at the same time, creative and stimulating.
There is also considerable support for the writing of poetry from the Ministry of Education, and there are now several writing and recitation contests, such as at Paduka Seri Begawan Sultan Science College. Although much of the focus is on poetry written in Bahasa Melayu, as Karen Daud writes, "There have been increasing translations of Malay poems into English as well through Dewan Bahasa and Pustaka."
This initial language of gestation being Malay is rather appropriate, especially when we consider the recent words of Haji Mohammad Salleh in his Afterword to English Language as Hydra (2012)—another book I co-edited—with its prime focus on the debilitating effects of imposed English on indigenous cultures and tongues. In a section entitled a "Poet Chooses his Language," he notes: "After a long period suffering from the guilt of choosing some other people's tongue, I made a conscious effort to write my poetry—the genre closest to my heart and my own medium of expression—in the Malaysian national language."
I am, of course, fully aware of the huge irony that I too am increasingly turning away from English-language poetry towards verse written in an indigenous tongue or in a form of deliberately usurped English, but I also firmly believe that there is still plenty of room for poets of any given country to write in whichever tongue suits them, particularly if they strive to own their own version of an imposed language. Poets in Brunei Darussalam are also no different, and there remains a solid place for them to create distinctive poetry in their version of English. This is especially true in a country as conducive to relaxed poetry writing as Brunei: it is after all the Abode of Peace!
All the more reason to check out the poem "The Abode of Peace" included in Under the Canopy and other poems and written by Arif Khudairi, who—among many others—continues writing fine Bruneian poetry in English.
Long may they all prosper.
"The Abode of Peace"
At dawn
walking alone
in the street
as Bandar
Seri Begawan
was asleep
when a call
for prayer
like a green
green bird
flew up
from the slim
snow-like
lofty minaret
of masjid
Omar Ali
Saifuddin
and the air
was filled
so rapidly
with a scent
of taqwa
and a sense
of peace