Reviews / June 2013 (Issue 21)

Journeys through Home: Fifty Stories, Fifty Images and Home, Away, Elsewhere
by Cecilia Chan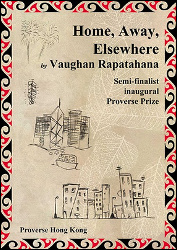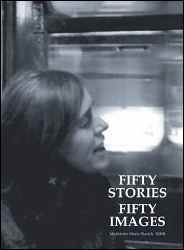 Vaughan Rapatahana, Home, Away, Elsewhere, Proverse Hong Kong, 2011. 208 pgs.
Madeleine Marie Slavick, Fifty Stories, Fifty Images, MCCM Creations, 2012. 136 pgs.
If the course of reading poetry is a journey, then two new collections by Vaughan Rapatahana and Madeleine Marie Slavick have allowed me to re-explore my own home, such as it is, of Hong Kong.
In Home, Away, Elsewhere, Rapatahana dedicates the first section titled "Home" to portraying Hong Kong, then moves on to other sections that bring readers "away"—to his former home of New Zealand, other cities in Southeast Asia, the Central Pacific, the Middle East and Central America—before finally settling "elsewhere" in the poet's personal realm.
In the introduction, he speaks of his reason for writing poetry: "Writing poems for me is religion: an attempt to impose some sort of thin form onto the massive chaos that I sense lurks just beneath."
Fittingly, the collection opens with a glimpse into the bustling chaos of Hong Kong through "Mongkok Lane":
marquee
words –
sharded
episodes
in someone else's
life
sentence –
lie
piece meal
crumbs
as
the
footpath
beckons
further along.
This is not a welcoming entry, with the allusions to the breadcrumb-laden path in Hansel and Gretel juxtaposing the intimidating mention of "life sentence." But the poet-persona is unfazed. Onwards, he explores another bustling district of Hong Kong in "T.S.T." Rapathana likens Tsim Sha Tsui to "a washing machine,/all colours mixed," and he moves through
this nocturne morass
of hawkers
hawking
'foot massage'
&
'copy watch'
i n t e r p o l a t e s
the dusty air
the braggart lights.
More voices and noises invade, as do shadier and seedier sights:
the 'chicken'
squawks,
as
commuters
sidewalk
zomboid.
In this chaos, though, the poet steadfastly walks on. His formal poetry plays with type setting and line spacing to demonstrate meaning and enhance the richness of the imagery. In addition, clashing syllables and double-meanings abound, altogether echoing the clamorous urban landscape of Hong Kong.
Rapatahana then leads us to a housing estate in the district of Tin Shui Wai bordering China, as the poet sings his "Tin Yan Blues":
o u t h e r e i n
T i n Y a n
floor
21st
the
on
up
if blessed
you
might
just
spy
the
ghost
that is
Shenzhen
In this town on the northern margins of Hong Kong, which has been dubbed "the city of sadness" for the high rate of domestic violence and suicide, the poet reveals the gloomier side of the city and lets the voice of a resident be heard:
'left me with the kids'
'seven years ago' –
I grasp her
hybrid
calque
above
the quiet moans
&
suppurating
groans
from d
o
w
n the wizened
hall
The poem also alludes to past suicides in the phrases "fatal fall" and "charcoal pall" (referring to the practice of burning charcoal briquettes in an enclosed space to bring on carbon monoxide poisoning) and ends with the refrain:
Got the Tin Yan blues, baby
got me so bad I can't call
got the Tin Yan blues, baby
miracle I stay alive at all
Embracing the many folds of Hong Kong, Rapatahana has chosen this city to call home and to display it with a matching variety of voices and styles. It is in "looking back, a kiwi," however, that Vaughan offers perhaps his more personal take on his life as an expat:
this
flight
less
bird,
nestled
in China,
squints
Aotearoa
askance
at that
his whenua
In Fifty Stories, Fifty Images fellow poet Madeline Marie Slavick also recalls the Hong Kong which she once called home. As is suggested by the title, her collection offers fifty images and fifty prose poems of delicate sightings of the city. The poet says that she has lived in Hong Kong for 25 years—longer than anywhere else. Although she has since moved to New Zealand, readers can tell from her poems and photographs that the city holds a special place in her heart.
She fondly recalls warm encounters in "Neighbors":
When I pass the parents on the stairs, they are going to work, or coming back home, and every time, the mother and I stop in our steps to greet each other.
The first time I met the grandmother, I was hanging out laundry on the roof and she came up to dry garlands of tangerine peel. She shouted a full hello but said the word 'good-bye'.
This episode of language barriers does not alienate her from the city and its people, instead she finds it endearing.
The theme of language also arises elsewhere in the collection. In the poem "Wordless," Slavick recounts how she still connects with Hong Kong, even if she cannot fully grasp Cantonese:
Now a whole day can go by without speech. Instead, days of eyes, song, intuition, sense, and an amount of loneliness.
And when I do speak, words in my language can weigh, close, prevail. I try not to take more power than anyone else. I try for less fear. There has been reciprocity, a lot of song, and some fear.
On another occasion, a Cantonese term manages to convey more than literal meanings or than its English equivalent. "Bak Lan," the Cantonese term for "white orchid," embodies many personal connections Slavick has with the city: the thriving old man who sells the flower at street corners, the bus driver who uses them to adorn his dashboard and thus gives a bit of peace to passengers, a friendship at work and the fond memory of a late poet friend. To encapsulate all these association, Slavick writes that "I use the Cantonese word for this flower and its tree." (…)/"'White orchid' tells me none of this."
Perhaps this is what the poet is trying to do—by alternating stories and photographs, mostly without identifying the people and locations, she shows what lies beneath the literal names of disparate objects, people and places, and adds a personal touch.
Elsewhere, Slavick observes disheartening things in the city. As economic development marches on, the demanding pace of life and rising living costs take their toll. In "Knees," she tells the story of elderly people living on high floors, despite the unforgiving flights of stairs, because those were the only places they could afford:
And when they climb up, their knees hurt for so long, that they do not leave their home for months.
She witnesses these moments, speaks of them with sympathy and good will and bravely moves on.
While Rapathana bravely and boldly reveals the chaos of the city, Slavick has the sensitivity to capture the little things that might go unnoticed.