Reviews / June 2013 (Issue 21)

Tales of Defiance: Cyril Wong's Let Me Tell You Something About That Night
by Aaron Chan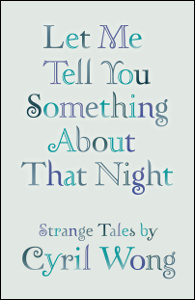 Cyril Wong, Let Me Tell You Something About That Night, Ethos Books, 2012. 140 pgs. (Note: Second Edition. First published by Transit Lounge, 2009)
The back cover of the book contains a caution from the publisher: "BEWARNED. MOTHERS SHOULD NOT read these stories to their children," despite their apparent resemblance to traditional fairy tales such as those by Brothers Grimm. Whereas conventional fairy tales, especially in their modern sugar-coated versions, more often than not bear a socialising function to inculcate and reaffirm mores and values in the reader, Cyril Wong's strange tales of the 21st century are not ashamed to lay bare ugly reality and touch upon "taboo" issues such as murder, sex and desire that have been suppressed in the European fairy tale tradition due to the heavy influence of Judaeo-Christian ideals. Whether Wong's tales would make good bedtime stories, I cannot be certain, but, by defamiliarising the familiar, they definitely pose a challenge to reader, especially one that grew up with saccharine versions of fairy tales by Disney.
The prototypical fairy tale is, as we all would find familiar, a story that takes place "once upon a time" in a faraway land and ends "happily ever after." Most of Wong's tales, however, do not adopt the formulaic opening and are not wrapped up properly. The tale is just an intersecting node where the characters and the reader—who, as a passerby, plunges into the fictional world in medias res and leaves at an arbitrary moment, usually without a resolution—adjoin. Conflicts are brought up to the reader but are not always resolved, as in reality.
Failed marriage, for example, is one of the social issues with which Wong's tales are concerned. In various stories, there are unhappy couples who have lost the passion in their marriages and stopped making love, as is particularly emphasised. ("The Angel's Dream" presents the reader with an ideal realm in which "everyone would play, make love, then sleep.) Lethargy causes a relationship to die. Wong's tales are subversive in that they openly acknowledge, if not acclaim, sexuality and desire as essential human drives, as symbolised in one story by the phallic flower growing out of the boy's ass with which he likes to play.
Homosexuality is another controversial issue, especially in the Asian context, that his tales unabashedly address. The tyrannical and homophobic father figures that prevent, or attempt to prevent, their children from entering a homosexual relationship in "The Boy With The Flower That Grew Out Of His Ass" and "The Dragon Prince's Letter To His Father" represent the oppressive force of heteronormality, from which the younger generation has to flee. In the end, most of the homosexual couples in the tales are blessed, while all the heterosexual ones are problematic in one way or another. This sabotage of the conventionally promising heterosexual marriage is another subversive move made by the author to the fairy tale genre.
Stylistically, Wong blends fantasy into reality and reality into fantasy, in such a way that any imaginary kingdoms and landscapes are convoluted with the world in which we live. The plights of modern life are, for example, subtly reflected in "The Elf & The Knight," a story taking place in a fantasyland, in which Enzo the elf, a victim of urban encroachment, is forced to relocate and switch jobs from a tree guardian to a tavern caretaker to a counter staff in a fast food restaurant inside an ever-expanding palace. On the other hand, in "The Kissing Devas," fantastical elements intrude into the realistic world through the first-person narrator's perception, leaving it ambiguous as to whether the women are really incarnate deities or merely the imagination of the protagonist, hence collapsing the boundary between objective and subjective realities.
Playing with the notions of reality and fantasy even further, "The Angel's Dream" captures the spirit of Zhuangzi's butterfly dream (莊周夢蝶) and also carries echoes of The Matrix, suggesting that the everyday world might just be a nightmarish illusion from which "any beings would be glad to finally wake up." The angel and her ideal world exist in our mind and imagination is thus the key to liberation.
In some other stories, death is the alternative key that takes us away from this weary world. That life is delimited by death also makes existence more meaningful. Many characters including Enzo and the Dragon Prince are eager to exchange immortality for burning passion and happiness in a mortal life. By daring the reader to consider the possibility of the endless regeneration and repetition of life, "The Cave" epitomises the proposition that immortality would be a horrifying Sisyphean curse that deprives life of meaning and purpose.
It would, however, be wrong to conclude that Wong values the afterlife more than mortality. After her death, the Queen in "The Queen & Her Eventual Knowledge of Love" enters an Edenic paradise but considers it "too corny and pastoral" to be ideal. The Edenic landscape then transforms into a cityscape, and then to an open field, according to the Queen's whims: "The afterlife was a place of dreaming, after all." Wong's tales do not attempt to construct any vision of the afterlife, which, after all, is probably just make-believe. The potency of his tales lies in the Buddhist carpe diem worldview they articulate. Instead of advocating a teleological belief as Hans Christian Andersen would in tales like "The Little Mermaid," Wong probably believes that, as the butterfly that wanted to be a rabbit in the eponymous tale realises, one ought simply "to settle for moments of elation at a time, and to suffer quietly the periods of emptiness in between." Such is life, simple and realistic, if you can face it with a calm and peaceful mind.
Reading Wong's tales is a mind-blowing experience. It is a literary journey as well as a philosophical quest. Conveyed in accessible language is a strong sense of defiance, interrogating many of our established beliefs instilled by (popular versions of) traditional fairy tales regarding sexuality, desire, life and death, etc. One thing is, however, affirmed: the power of the mind. One does not need to look externally for guidance and satisfaction but inward for strength and peace. The imaginative realm, to which the angel belongs, is full of joy and fantasy and possibilities. Wong's fantastic tales open a window to this wonderful realm and invite us to explore it on our own.