Reviews / June 2013 (Issue 21)

Naked Honesty: Sunil Nair's When All The Lights Are Stripped Away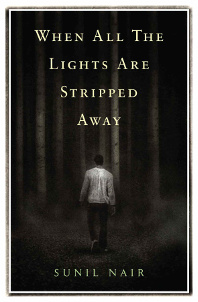 Sunil Nair, When All The Lights Are Stripped Away, Marshall Cavendish, 2012. 288 pgs.
Sunil Nair's When All The Lights Are Stripped Away is an intricately written coming-of-age story about a young Indian man growing up in contemporary Malaysia. Raised by a strong but guarded mother who introduces him to and channels his passions into art, Anil, the protagonist, is quick to abandon everything his moneyed, well-connected and morally questionable father has arranged for him to inherit the moment she dies. One hundred and sixty-eight hours after his mother's death, Anil's innocence is shattered. He walks in on his father, Acha, having sex with the maid and declares the patriarch's "days of mourning truly over." Reviled, Anil jots his father a quick note, takes two thousand ringgit from a drawer and flees from his home in Muar to Kuala Lumpur, the big city.
In Kuala Lumpur, Anil is determined to forge a new life for himself and to experience the city differently than he ever has before. He begins by picking a room to rent at random. In his view, "walking the streets [of KL]...with his eyes open [teaches] him more in an hour than he had learned travelling for days through the city with his parents in the backseat of the car." In KL, he also befriends a motley crew of English-speaking street hawkers, university students, writers and entrepreneurs who come from a diverse array of backgrounds. Anil's new friends know little about his past, but seem satisfied by his confession that he came to KL "to be a new person here and to forget my father, my town and myself if I can."
Every member of the tightknit group of "Malaysians, misfits and countrymen" takes it upon himself or herself to educate Anil on a specific aspect of his new city life. Santhia—Anil's boss at The Daily Planet where he publishes political sketches—later becomes his girlfriend, and, eventually, his wife. Always mindful of the limits that she believes the paper needs to impose on Anil's cartoons so as not to be censored by the government, or, worse, shut down, Santhia teaches Anil important lessons about power and control in Malaysian politics. Goh Poh's lessons are both practical and fraternal; Goh Poh hires Anil part-time to paint movie posters so that Anil can make a living, and he also advises the inexperienced protagonist on the art of lovemaking. Harish introduces him to Borges and "within a year [Anil is] almost on par with [Harish], a person who [has] read the masters all his life."
Despite having worked hard to construct a life distinct from the one his father wants to thrust upon him, Anil is forced to relook at his family's history and himself the day he receives a jarring message. His father writes simply, "Come home. I am dying." Santhia, now six months pregnant, advises Anil not to fall into his Acha's trap, but he sees his father's request as an opportunity. Adjusting to life back in Muar is far from simple, however. While at home, Anil stumbles upon many stories both his mother and father worked hard to cover up.
My one critique of an otherwise delicately constructed book is Nair's portrayal of this portion of Anil's life—his time at home—which comprises roughly half the novel. This section is written sensitively at times, but heavy-handedly at others. Nair's description of Anil's re-evaluation of his mother's life and artwork, both of which he mischaracterised until stumbling upon some of the bolder pieces she had hidden in a garden cupboard, is beautifully handled.
Where Nair falls short is in his drawn-out descriptions of Anil's father and his plans for his son's future. Although Nair portrays Anil and Acha's strained relationship honestly, some of the passages detailing their fragile interactions seem clumsy. In an effort to get to know each other better, the two men broker a deal: they will ask each other questions and answer as candidly as possible. Although they succeed in learning more about each other, at times, the father and son hurt each other with their frankness. Acha admits to having taken on lovers, confesses to having brokered deals with unsavory characters and instructs Anil to do the unthinkable—to euthanise him when his pain becomes too much to handle. A more realistic version of Anil would probably have broken down upon hearing this information; Nair's, however, does not. The author also drags Acha's political ambitions for Anil on through much of the second half of the book, but does not resolve them until the last chapter. Nair's repeated attempts to broach the subject can seem overwrought.
Nevertheless, When All The Lights Are Stripped Away is a captivating read with some beautiful descriptions of Malaysian places, politics and family life and a wonderful first novel.