Reviews / March 2013 (Issue 20)

End Games: Leung Ping-kwan's City at the End of the Time
by Carolyn Lau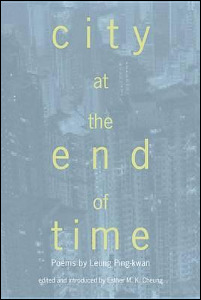 Esther M. K. Cheung (ed.), Gordon T. Osing and Leung Ping-kwan (trans.), City at the End of Time: Poems by Leung Ping-kwan, Hong Kong University Press, 2012. 264 pgs.
Leung Ping Kwan, the award-winning and prolific writer, poet and one of Hong Kong's most prominent literary voices died on Saturday, January 5, 2013. Leung will be remembered for his relentless advocacy for a Hong Kong literature marginalised by its own people, his sensitivity and perceptive observations of the overlooked sights and sounds of an amnesiac city undergoing constant face-lifting, his unparalleled erudition in reinterpreting literary and artistic traditions from the East and West, his artistic audacity in bridging an astonishing breadth of genres and art forms and his sparkling wit and humour in defiance of political trauma and deteriorating health in the last days of his life. For a society agitating over its own identity while remaining entrapped between nostalgia for a whitewashed colonial past and a growing hostility and scepticism towards an almost alien motherland, it is, as Leung said, "hard to tell our own stories." Leung Ping-kwan shouldered this Homeric responsibility and weaved a tapestry of melodic verses with threads of time and yarns of poignant images of a bittermelon, grand old tables and an old colonial building.
Written by Leung Ping-kwan, Hong Kong's veteran cultural critic and the city's unsanctioned poet laureate in the 1980s and 1990s, City at the End of Time is, contrary to its title, a living and timeless relic of this city's eternal and perpetual transition. This reissued poetry collection transcends dated socio-political preoccupations. Its poems have been exempted from the unfortunate fates of many perceptive and searing poetic portrayals of city life from bygone eras. These now overlooked works have often sadly become dried up artefacts of faded billboards narrated by a crackled voice of the disgruntled sage, failing to find the last remaining scraps of relevance in the present day. Leung's sometimes playfully cynical, whimsical and nonchalant voice intersects with his world-wise, meditative and warmly humorous observations of the absurdities and the extraordinary in the most ordinary circumstances. Originally published in 1992 in a period permeated with fear and anxiety over the uncertain political situation ahead and by glamorous hedonism carried over from the golden age of cosmopolitanism in the 1980s, Leung does not lash out at the foreign-worshipping mentality of the locals nor endorse it. The fluid and constantly shifting perspectives adopted by the poet extend to renewed ways of looking at the different "Chinas" vying for the loyalty and allegiance of a politically apathetic populace and the fragmentation and hybridity of Hong Kong's unsettled identity and patchwork culture.
Baudelaire's flâneur is brought to 1990s Hong Kong in Leung's works. The poet walks through the passageways and alleys of the city, absorbing the disparate sights and sounds. Instead of using a palette and an easel, Leung uses unpretentious everyday tonalities and speech patterns to sketch the fleeting and the static. The confusion resulting from the city's strange and incongruent juxtapositions of East and West, traditional and modern, is best illustrated in the poem "In Fabric Alley." Its dizzying "kaleidoscope" of fabric choices resembles "a jungle of too many possibilities," as well as the conflicting value systems in a, at least materially, thoroughly Westernised city. The poet leaves the still unanswered question of "how to go about tailoring something new, to make it so it wears the body well?" open. Will this city, which constantly tries to remake itself in order to catch up with evolving foreign trends, ever succeed in feeling comfortable in its own skin when there is "no means to tailor…garments of worlds to come"?
If Fabric Alley is a product of a marginalised lifestyle and aesthetic taste for traditional Chinese tailoring and craftsmanship, then Ap-liu Street, packed with electronics and hi-fis, is where the "surplus images of the city are discarded with the garbage" and where "piled high together they smell to high heaven." The street known for its technological bric-a-bracs and heap-loads of unwanted gadgets is an exotic wasteland of futuristic imaginings gone wrong. Abandoned television sets assume a human voice to plead for a new life by asking passersby to "turn us on…and make our pictures clear" while "a rusty cooker and an irregular wok" beg for an owner to give them a home. The constant drifting and homelessness of these "useless pieces" parallels that of the inhabitants of this city who are descendants of immigrants, and who have inherited their ancestors' instinct for following the money wherever it goes. Permanence and belonging are deemed at odds with rampant opportunism, an otherwise questionable attitude prided by the local people.
Although cotemporary urban life and popular culture are frequently featured in Leung's poems, the poet retains the worldview of a traditional Chinese scholar. His series of yongwu shi (poetry about objects) is Hong Kong's answer to Pablo Nerdua's "Ode to Common Things." Here, Leung engages in a series of dialogues with fruits and vegetables, plants, pieces of art and everyday objects. As the poet said in a conversation with his friend and translator Gordon T. Osing, the vividness and strong visual elements of traditional Chinese "yongwu shi" attracted and influenced him. Traditional Chinese poetry's formal and stylistic qualities—such as the "method of direct presentation, its concrete images and its flexibilities of syntax"—is reflected by Leung's experiment with unfixed and ambiguous forms, which break the constraints of diction and rhyme and subvert the conventional use of pauses, as in the eccentric and strangely defamiliarising poem "Green Salad."
However, it is the attitudes of classical Chinese poets that are exemplified in Leung's works and personality. Su Dongbo, a Song dynasty scholar official who was banished and forced into exile due to political struggles in court, is known for his yongwu shi. Su projected his affection for daily objects and his wisdom and ease even in times of hardship onto the things around him. Leung displays the virtues and loftiness of a scholar belonging to the same literati culture. His dialogues with the flowers and trees he meets on the road are, in reality, the intimate internal monologue of an artist and an intellectual that allows readers to glimpse into his mind.
Other poems in the collection are more satirical. The collage of bizarre prizes in "Lucky Draw" includes an "investigating committee formed by two dozen Englishmen" and "a canned husband and a bunch of motorized relatives." This satire of mainstream culture's obsession over freebies (housewives will line up for days for a crystal mah-jong set or McDonald's Snoopy dolls) is Leung's understated attempt to distance himself from the madding crowd. To the majority, he appears to be the odd-one-out, still "walking slowly" when "people carry off their winnings and hurry to hide them." Those around him are even paranoid, fearing that he is "trying to catch up and walk all the faster." The poet here is a clearheaded observer calmly looking on to the frenzy of those flustered with materialist desires and incessant consumption of mass-produced products.
Like the scholar official in exile from the country's capital who still devotes himself to futile reform efforts, the situation in an alien China embroiled in turmoil is never far from the poet's mind. This poetry collection is a nuanced account of the hopes and fears of the city and its people in 1992, a year of transition as the inhabitants were compelled to transition themselves from the carefree optimism of the 1980s to the harrowing fear of the 1997 handover to China. The June Fourth Massacre in 1989 had shocked and appalled the general public, fanning distrust and disgust towards the Communist Party ruling in Beijing. Waves of emigration and hasty transferals of stocks and investments overseas became heated topics for chitchat after meals, as well as thorny issues for the British colonial government. June Fourth roused the Hong Kong people from political ambivalence to protest on behalf of the arrested student leaders. It has instilled in them since then an inextinguishable awareness of their identity as part of the Chinese nation, as they witnessed on television screens the harrowing scenes of bullet-ridden bodies strewn in Tiananmen and the wailing victims of natural disasters in the mountainous regions in villages in Mainland China.
Hong Kong's neutrality in the China debate between the Mainland and Taiwan and its Westernised worldview makes it the only place in the Chinese community since 1949 that allows both Communist and Nationalist supporters to coexist and voice their opinions on the ownership of the "real" China. As Leung said in an interview, there are "extremely different 'Chinas.'" Some faced difficulty in relating Hong Kong's long prized values of the rule of law and respect for human rights and China as an authoritarian Communist country. Others find it hard to reconcile the post Cultural Revolution China with the glories and achievements of an ancient civilization. These uncertainties accumulate into the ultimate question of language and selfhood. The daily usage of the Chinese language to think, speak and write is integral to the identity of the Hong Kong people—yet, the type of Chinese used is a subject of contention. The original body of work in this collection is written in traditional Chinese and filled with lines drawn straight from the mouths of Cantonese speakers. Already in this move, we see the poet's controversial use of the Cantonese dialect, which is not only criticised for being "noisy" or bawdy, but is also often deemed inappropriate for poetry, as most of the syntactic structures and word choice of traditional Chinese poetry are based on Mandarin.
The translation of Leung's poems into English involves hurdling over another linguistic barrier, this time an even more towering obstacle. In the "Journeys" poems, which record the poet's impressions and reflections of his place in history during his travels in different counties and his mind's journey through time and space, the translation process gives rise to the evaluation of Chinese and Western poetics, a cross-cultural verbal exchange. Instead of translating the poems straightforwardly and rigidly, Osing explained in an interview included in the reissued poetry collection that as he had no prior knowledge of the Chinese language, he had to render Leung's words into English after long conversations with the poet, negotiating the conceptual meanings of each phrase and line. The English translations are themselves telling interpretations of untranslatable Chinese linguistic innovations and unique indigenous cultural concepts.
The collection is a translation of the Chinese poetic language into English, dazzling urbanity into understatement, social norms into comical satire, artistic aspiration into vegetables and conflicted identities into kitschy streets, all of which come to a head at an end of time, which never happened. The cyclical temporality and the overblown visions of an apocalyptic 1997 are some of the causes for the city's current survival from pervasive pessimism. Nearly two decades after the publication of City at the End of Time, seemingly indestructible landmarks that had been part of the lives of so many (such as Queen's Pier) and cherished values including freedom of press have been threatened by increased governmental encroachment and intervention. Many have long abandoned the restless search for a place called home and settled down in this city, sometimes reluctantly. The end is an enduring process. The poet who once said, "I do not belong to one culture" will, to readers who cherished his words, continue to shift in and out of national and linguistic boundaries and imaginations with ample grace, integrity and empathy while "the old Tang imagery changed and changing us together."