Reviews / March 2013 (Issue 20)

English Indian Poetry Today: The HarperCollins Book of English Poetry
by Abha Iyengar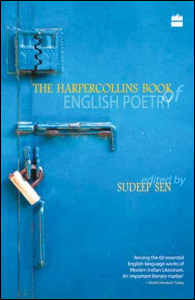 Sudeep Sen (ed.), The HarperCollins Book of English Poetry, Harper Collins, 2012. 542 pgs.
Each word can be tasted without
salt or seasoning.
–Meena Alexander, "Remembering the Potter"
So I speak to you now only in English
–Jeet Thayil, "2007"
The HarperCollins Book of English Poetry (1950-2010) is a mammoth work of 542 pages. This anthology, edited by Sudeep Sen (his own poems form part of the collection), brings together the works of 85 poets. The variety of style, thoughts, theme and presentation has only one binding factor: it is poetry written in English by Indians, though the net is thrown wide to include those of Indian origin but born or living elsewhere. Many of them, like H. Masud Taj and Tishani Doshi, belong to the so-called Indian diaspora. Others, such as David Dabydeen and Daljit Nagra, have only their roots in India to lay any claim to be Indian poets. So even if you are only Indian by the skin of your nose, if your poetry is of international worth, then you are a part of this collection. It does not even matter if you are a new and emerging writer—you have every chance to be included, as long as you are Indian, write poetry in English and are good.
The HarperCollins Book of English Poetry holds within its pages an amazing range. Literary and cultural definitions are always changing, and the definition of what Indian poetry in English is today is no exception. In this anthology, there is rhyming verse, free or blank verse, hypertext works, prose poems, ghazals, pantoums, tankas and so much more. There are the sonnets of Vikram Seth. There is the experimental work of Vivek Narayanan. Karthika Nair offers a ghazal ("Solea: From Lyon to Angers") and a haiku ("Song Shan in 36 Shuffled Slides"), bringing new breath to established forms. Deepankar Khiwani writes the villanelle, "This Is the Way" and takes your breath away.
There is also the open voice of Mahendra Solanki, as in "Thirst":
the priest, who once alone
with you, talked you out of
your shorts, and with you emptied,
would plead for you to piss into
his mouth; his thirst not quenched?
Amit Chaudhuri's voice is cynical, laced with barbs, as in "The Writers: On constantly mishearing 'rioting' as 'writing' on the BBC":
Long standing neglect
And an absence of both authority and employment
Have led to what are now ten nights of writing.
Is there a commonality? The commonality is of the poetic voice, the expression of the heart and the fact that the works are all deeply human. Hear, for example, John Siddique, in his poem, "Via Negativa":
We could have loved so much better
than we did. For so long we sat at the table
waiting, while not one of us served the other.
Sen has chosen only to include works from between 1950 and 2010. This may reflect his definition of "contemporary": still fresh, not jaded. It may also have been Sen's way of ensuring the book did not become mammoth—squared. Limiting the period has certainly helped him set a limit of a kind where there is none put on style, theme or form. Do we find a pattern or evolution, in that the poets of the 1950s and 60s write differently from those of the 1970s or 1980s? Not really. It is not the times, but the individual that lends voice to the work.
Chitra Banerjee Divakaruni's "The World Tree: after Francesco Clemente's Indian miniature—14" is a case in point. The poem is replete with amazing imagery:
The tree grows out of my navel. Black
as snakeskin. It slithers upward, away
from my voice. It spreads
across the entire morning, its leaves
tongues that drink the light.
Aditi Machado in "Surrealist Film Making" unravels something deep within: "We cut across the forest like thieves. All that derails/is one thread of your scarf – I am dizzy with its unravelling."
The anthology introduces many voices previously unknown to me. There are, of course, many poets I have read or knew of, like Anjum Hasan, Arundhati Subramaniam, Imtiaz Dharker, Jeet Thayil, Jerry Pinto, Meena Alexander, Menka Shivdasani, Monica Modi, Michelle Cahill, Priya Sarukkai Chabria, Sridala Swamy, Tishani Doshi, Vikram Seth, Vivek Narayanan and Sudeep Sen among others. But there are many others I discovered through this anthology, including Amitava Kumar, Aryanil Mukherjee, Bibhu Padhi, C.P. Surendran, John Siddique, Kavita Jindal and Maya Rani Khosla. Inevitably, such collections, however comprehensive, will always have someone missing you wished was there, but this is feast enough.
Sen writes that this anthology hopes to redress the absence of "a body of contemporary works that reflects a movement in new English poetry by Indians." He has worked with many of these poets before, evident in their appearance in collections he has previously edited. Yet many are new, introduced for the first time. Sen has thus created a landmark in this anthology, by bringing together the work of Indian poets, both recognised and emerging.
The HarperCollins Book of English Poetry feels very contemporary, and it has moved far away from the world of the English poetry of pucca sahibs, sandwiches and scones. Instead, the pieces in this collection talk of "curry cookin in de karahee" (David Dabydeen, "For Ma"), of "every lunchtime butter garlic fries" (Anjum Hasan, "No Sentence") and of "men wrapped in loincloth cream as milk" (Sidhartha Bose, "Sex and the City").
A lot is changing in Indian writing, with almost everyone becoming a poet overnight, getting published or on his/her way to it. In such a scenario, it is difficult to separate the wheat from the chaff. Yet those poets whose beautiful, wholesome grains settle well in our hearts and stomachs will be the ones we shall find featured in future anthologies such as this.
Until then, The HarperCollins Book of English Poetry will satisfy the reader of today very well.