Reviews / September 2012 (Issue 18)

Foreigners' Rip Entry into Common Lives in Beijing: Royston Tester's Fatty goes to China
by Samuel Tsang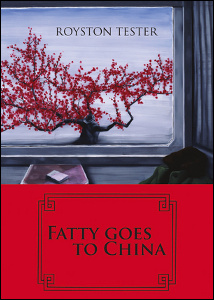 Royston Tester, Fatty goes to China, Tightrope Books, 2012. 150 pgs.
In his second book, Fatty goes to China, regular Cha contributor and guest editor Royston Tester offers eleven stories of remarkable depth and crafty narration, which demonstrate his ability to carve out a literary niche that offers both entertainment and profundity.
Fatty is a book about Chinese culture written from an outsider's point of view. As such, several of Tester's stories, with carefully tended incorporations of local cultural elements and anecdotes, offer a fresh perspective on the lives of common people in Beijing: from a construction worker to a barber, from the terminally ill to the fast food server. Apart from exploring a wide range of characters, Tester is also not afraid of imbuing his stories with potentially explosive issues—the atrocious facts surrounding comfort women during the Japanese invasion of China, the longing for freedom by a woman trapped in a marriage with a closeted gay man and the ambivalent condition of being a Westernised Chinese, to name but a few.
From 2007 to 2011, Tester lived intermittently in Beijing as writer-in-residence at Red Gate Gallery, and this familiarity with city has allowed him to capture its many sides. Beijing stories such as "Four Gentlemen and One Comfort Woman," "Pink Virgin of KFC," "A Beijing Minute" and "Fatty Goes to China" are woven tactfully together by several commonalities: a strong interest in Chinese culture, a portrayal of the capital's cityscape and the interactions of both locals and Westerners. (Versions of two of these stories, "Pink Virgins of KFC" and "Fatty Goes to China," originally appeared in Cha.)
In "Four Gentlemen and One Comfort Woman," much attention is paid to the art of guo hua (國畫), Chinese painting. Tester describes the artistic practice in great detail—not only does he elaborate on the notion of the Four Gentlemen (otherwise known as Four Noble Ones, which are in fact four plants: bamboo, the orchid, the chrysanthemum and the plum blossom) in Chinese art, he also explores the use of coded strokes for communication during wartime and the cinnabar-pressed scarlet seal. Such details, I believe, speak to Tester's intention to draw his readers' attention to lesser-known elements of the classical Chinese legacy. "Four Gentlemen and One Comfort Woman" also illustrates the darker side of Chinese culture. For example, the Three-inch Golden Lotus (三寸金蓮), a term celebrating the custom of female foot binding, is mentioned in the story. Textual tension is thus created through the juxtaposition of floral allusions to the Four Gentlemen (representing Confucian ideals of nobleness) and the Golden Lotus (the suppression of Chinese women).
Yet beyond his embrace of Chinese motifs, Tester also seeks to provide a deep exploration of the lives of both locals and expats in Beijing. "Pink Virgin of KFC," for instance, portrays a romantic fling between Dai-tai, a young Chinese woman, and Kit, a young American man on a language programme. While working as a part-time cashier in a local Kentucky Fried Chicken, Dai-tai meets Kit and attempts to seduce him. Despite ridicule from her schoolmates, she is determined that Kit will rescue her from her current life. However, her plans to marry the foreigner fall apart when he unexpectedly disappears.
In the story, Kit's sudden departure marks Dai-tai's coming of age and her surrender to destiny. Despite her own desires, she lets her family arrange a marriage to a "Golden Husband," who is described as a "happy-go-lucky, no-name bachelor of fifty years who played mahjong in teahouses." In its modern take on arranged marriage, a practice that survives even today, "Pink Virgin of KFC" explores the often pitiful position which unmarried modern Chinese women find themselves.
Tester further explores the theme of marriage in "A Beijing Minute," the tale of Sun Mee, a woman contemplating an escape from her husband, Yuanjin. The story opens with Sun Mee's emotional longing for emancipation, which greatly intrigues the reader as to why she wants to flee. As the story unfolds, reasons are provided to explain this desire: disrespect from her father-in-law, her unhappy marriage (loveless and sexless), her husband's attempt to adopt a child and most shockingly, her discovery of Yuanjin's homosexual affair with a Westerner. Sun Mee's life is, to a large extent, influenced by the males around her. Yet the story is not only about the negative effects of male forces on a Chinese woman's life, but also about the human condition in Beijing more generally—a homosexual son's obsession with continuing the family line, a Westerner's longing for love and a woman's growing courage in seeking independence.
The story ends with Sun Mee fleeing from her husband, defying all the pressures from a yet lamentably male-dominated culture. Her resolve to break away from her suppressed life showcases her authenticity and existential courage, which are in sharp contrast with Dai-tai's submission to her family and to the Golden Husband. Both women's stories, set against the cityscape of Beijing, touch upon the themes of free will versus determinism, emancipation versus suppression and authenticity versus compromise. These are vital themes in modern Beijing, presented as a microcosm of China, and Tester deserves credit for venturing into such lesser-explored issues.
The title story, "Fatty goes to China," serves as a culmination of the Beijing tales, by bringing back characters from the other narratives. The story ends at the Dongbianmen railway terminus, where Dai-tai and her relatives are awaiting the arrival of her Golden Husband and where Sun Mee is fleeing into a new life. This shared setting hints at the common fate of ordinary people beneath the Beijing sky. "Fatty goes to China," however, focuses on the friendship between Gao, a married barber and Tomasz (nicknamed Fadi), a Muslim diving instructor from Prague. Their relationship, which may be read as intimate yet platonic or as a cryptically homosexual, spans twelve winters and is made up of simple events like a visit to Fragrance Hill, watching birds and playing mahjong for hours. Sadly, Tomasz dies a suspicious death in a plastic surgery operation, which drives Gao to hysteria in the railway terminus. The scene is subtly narrated and the cause of death left deliberately ambiguous:
"Forgive me, Fadi," he says, slicing away cotton over the belly, camphor at his nostrils. Gao wrenches apart in this Muslim shroud.
Gently, he raises Tomasz's upper body.
"So."
There at the diver's groin, an encrusted smirk.
Rip entry.
Riptide.
Rip entry is a diving expression for a flawless dive into a pool. The ripping of paper. Minimization of splash. Tester is clearly playing with the multiple meanings of "Rip" here and the passage is open to multiple interpretations. For me, it represents a foreigner's entry into Beijing life: an entry that may seem hushed, splash-less and even harmonious, even though riptides below the surface often present unseen struggles and dangers.
In Fatty Goes to China, Tester sharply and tactfully observes the lives of local Bejingers, as well as their interactions with foreigners. As a result, a unique sense of richness and readability trembles across the collection's pages, ready to disturb readers with dark yet worthy themes. Tester's experiences as an expat, in my opinion, also provide him with a sensibility unavailable to local inhabitants of Beijing, his identity as "foreigner" granting him an objective distance—be it cultural or linguistic—which allows for a more original entry into the kaleidoscopic facets of Chinese culture.