Contributors / April 2018 (Issue 39)
Guest Editors and Contest Judges

B.B.P. Hosmillo
is the author of
Breed Me: a sentence without a subject/ Phối giống tôi: một câu không chủ đề
(
Ajar Press
, 2016) with Vietnamese translation by Hanoi-based poets Nhã Thuyên & Hải Yến. A Pushcart Prize and four-time Best of the Net nominee, his writing is anthologised in
Bettering American Poetry
(BlazeVOX, 2016) and forthcoming or has appeared in
Apogee Journal
,
BOAAT Journal
,
Connotation Press
,
The Collapsar
,
Transnational Literature
, and
The Nottingham Review
, among others. His interviews can be read in
Misfits Magazine
and
VIDA: Women in Literary Arts
. He is the founding co-editor of
Queer Southeast Asia: A Literary Journal of Transgressive Art
. Hosmillo helped select the poetry in Issue 39 of
Cha
. [
Cha Profile
]
Matt Turner
's writings can be found in
Seedings
,
Hyperallergic Weekend
,
Los Angeles Review of Books China Channel
and
Bookforum
, and he has translated or co-translated Lu Xun, Chan Chi Tak, Yan Jun and Hu Jiujiu. He lives in New York City. Turner helped select the fiction and creative non-fiction in Issue 39 of
Cha
. [
Cha Profile
]

Tammy Ho Lai-Ming
is a founding co-editor of
Cha: An Asian Literary Journal
and the academic journal
Hong Kong Studies
(Chinese University Press), English Editor of
Voice & Verse Poetry Magazine
, and a Vice President of
PEN Hong Kong
. She has co-edited several poetry anthologies, including
Desde Hong Kong: Poets in Conversation with Octavio Paz
,
Quixotica: Poems East of La Mancha
, and
Twin Cities: An Anthology of Twin Cinema from Singapore and Hong Kong
. Her first poetry collection is
Hula Hooping
and she is a recipient of the Hong Kong Arts Development Council's Young Artist Award in Literary Arts. She is a co-judge of
the Auditory Cortex poetry contest
. [
Cha Profile
]

Lian-Hee Wee
became a phonologist when he failed as a syntactician, which followed his failure as comedian, and before that, musician. His latest failure is at veganism. However, his failures are categorically indistinct from current passions since he hasn't given up trying, tinkering and finding solace that any non-success is material for humor. His political views are naïve because for him RIGHTS & RESPONSIBILITIES apply to all sentient beings, even if they have a predator-prey relationship. He was born and raised in Singapore. The tropical heat drove him north only to settle in Hong Kong where it turned out to be only cooler in certain months. Wee is a Professor teaching at Hong Kong Baptist University. He is a co-judge of
the Auditory Cortex poetry contest
. [
Cha Profile
]
---

Amanda Cattel is a Chinese-American, currently studying at the University of Central Florida. She is a contributor to The Estia Collective and The Odyssey Online. She enjoys writing about film, competitive figure skating and fashion studies. When she's not writing, she is a performer for The Improv Academy and plays the piano for nursing home residents. [
Film Reviews
]

Amrita Brahmo holds a Master's degree in Applied Economics from the Jawaharlal Nehru University, New Delhi. Born to Bengali parents in Kolkata, she grew into her own across a spectrum of Indian cities, each of which lends a unique flavour to her writing. Apart from poetry, she also writes short fiction and opinion pieces, and has previously been published in the online magazine
EFiction India
. Her poetry is an expression of her identity as a modern queer woman against the backdrop of family dynamics, cultural expectations and societal stereotypes. [
Auditory Cortex
]

Andrew Houwen is a translator of Dutch and Japanese poetry and an Associate Professor at Tokyo Woman's Christian University. His translations with Chikako Nihei of Tarō Naka have so far been published in
Shearsman
and
Modern Poetry in Translation
and will be collected in a book to be published with Isobar Press. [
Translation
]

Artemis Lin is a queer writer and filmmaker currently residing in Los Angeles, CA. Her work is often a deep dive into her Chinese-American upbringing, and explores the intersection between mental illness, trauma, dreams, memory, and family history. She is the editor-in-chief of the critical film journal,
RABBLEROUSE
. [
Poetry
]

Bonnie S. McDougall is Honorary Associate at the Department of Chinese Studies, School of Languages and Cultures, University of Sydney. She has translated Chinese poetry, fiction, drama, film, letters, essays and articles by well-known Chinese writers including Bei Dao, Chen Kaige, Ah Cheng, Qiu Xiaolong, Lu Xun and Mao Zedong. She has taught Chinese literature and literary translation at the University of Sydney, Harvard University, the University of Edinburgh, the Chinese University of Hong Kong and the City University of Hong Kong as well as the College of Foreign Affairs in Beijing. [
Translation
]

Brian Haman is the Book Review Editor of
The Shanghai Literary Review
. His writing on Asian literature and music has been appeared in
The Guardian
,
South China Morning Post
, and
Asian Review of Books
. A former Fulbright Scholar, he holds a PhD in German Studies and an MA in English Literature from the University of Warwick (UK). [
Book Reviews
]

Cameron Morse taught and studied in China. Diagnosed with a glioblastoma in 2014, he is currently a third-year MFA candidate at the University of Missouri—Kansas City and lives with his wife Lili and newborn son Theodore in Blue Springs, Missouri. His poems have been or will be published in over 100 different magazines, including
New Letters
,
Bridge Eight
,
South Dakota Review
,
I-70 Review
and
TYPO
. His first collection,
Fall Risk
, is available from Glass Lyre Press. [
Poetry
]
Cameron Su, 17, is a junior at the Hong Kong International School, where he is a member of the percussion section of the Wind Ensemble. He has recently been selected as a participant in the Asia Pacific Activities Conference honour band. Having secured third place in the Year 16 and under division of the Hong Kong International Drummer Festival last autumn, he now serves as one of the festival's Ambassadors and Drummers-in-Residence. Su is co-captain of the high school golf team, for which he has been a member since the sixth grade.
Memories Cached
,
an except of which is featured in Issue 39 of Cha
, is Su's second publishing venture. It is the culmination of more than three years of intensive writing and editing. Stage 2 of the novel project entails a collaboration with the
Act!on for a Cause programme of Kids4Kids Hong Kong
. Together with Kids4Kids Founder Michele Lai as mentor, Su will participate in an anti-bullying campaign in Hong Kong schools, including presentations by mental health professionals on the subject of traditional and cyber bullying. The new title is available in Swindon Books (and affiliates Kelly & Walsh and Hong Kong Book Centre), Commercial Press, Joint Publishing and Chung Hwa Book outlets throughout Hong Kong. The book will also be distributed in Singapore, Malaysia and Brunei. [
Excerpts
]

Carl Walsh is an Australian public servant who enjoys writing poems and short stories in the snatched moments afforded between work and family life. Five years ago, he went on holiday to Japan and was delighted by the poetry, history and culture, which have influenced many of his poems since. He is currently saving up for his next trip. His writing has been published in
n-SCRIBE
(an arts and literary journal for writers in Melbourne's northern suburbs),
Cordite Poetry Review
,
Visible Ink
,
Rabbit Poetry Journal
and
Southerly
. [
Poetry
]

Chikako Nihei has recently completed a doctoral thesis on the novels of Haruki Murakami at the University of Sydney. She is currently a lecturer at Yamaguchi University in Japan and is working on a publication concerning Murakami and literary translation. [
Translation
]

Dan Disney's creative work will appear this year in
Westerly
,
Sijo
(an international journal of poetry and song),
Coolibah
, and
The Canberra Times
, while his critical and ficto-critical work can be found in
Westerly
,
Angelaki
, and
New Writing
. His collections of poetry include
Mannequin's Guide to Utopias
and
either, Orpheus
, and he is currently completing a collection of sijo/stlings, which reflect a deepening relationship with Korea and the Korean language (it's complicated). He is an Associate Professor with Sogang University's English Literature Program. [
Poetry
]

Duo Duo 多多 became one of the founders of contemporary Chinese poetry four decades ago, and remains an important voice in its present. A native of Beijing, he was exiled to the Netherlands after 1989 and returned to China in 2004. His poems have appeared in English translation by Gregory Lee in
The Boy Who Catches Wasps
(Zephyr, 2002), and his selected stories were translated by John Crespi in
Snow Plain
(Zephyr, 2010). Winner of the prestigious Neustadt Prize in 2010, he has been described by Eliot Weinberger as "a political poet who makes no statements; a realist poet in an alternate universe." [
Poetry
]

Eileen Chang (1920-1995) was born into an aristocratic family in Shanghai. Her father, deeply traditional in his ways, was an opium addict; her mother, partly educated in England, was a sophisticated woman of cosmopolitan tastes. Their unhappy marriage ended in divorce, and Chang eventually ran away from her father—who had beaten her for defying her stepmother, then locked her in her room for nearly half a year. Chang studied literature at the University of Hong Kong, but the Japanese attack on the city in 1941 forced her to return to occupied Shanghai, where she was able to publish the stories and essays (collected in two volumes,
Romances
, 1944, and
Written on Water
, 1945) that soon made her a literary star. In 1944, Chang married Hu Lancheng, a Japanese sympathiser whose sexual infidelities led to their divorce three years later. The rise of Communist influence made it increasingly difficult for Chang to continue living in Shanghai; she moved to Hong Kong in 1952, then immigrated to the United States three years later. She remarried (an American, Ferdinand Reyher, who died in 1967) and held various posts as writer-in-residence; in 1969 she obtained a more permanent position as a researcher at Berkeley. Two novels, both commissioned in the 1950s by the United States Information Service as anti-Communist propaganda,
The Rice Sprout Song
and
Naked Earth
(the latter now available as an NYRB Classic), were followed by a third,
The Rouge of the North
(1967), which expanded on her celebrated early novella, "The Golden Cangue." Chang continued writing essays and stories in Chinese, scripts for Hong Kong films, and began work on an English translation of the famous Qing novel
The Sing-Song Girls of Shanghai
. In spite of the tremendous revival of interest in her work that began in Taiwan and Hong Kong in the 1970s, and that later spread to mainland China, Chang became ever more reclusive as she grew older. She was found dead in her Los Angeles apartment in September 1995. In 2006, NYRB Classics published
Love in a Fallen City
, an original collection of Chang's short fiction. The following year,
Lust, Caution
, a film adaptation of Chang's 1979 novella, directed by Ang Lee, was released. [
Excepts
]

Gino P. Paradela is a teacher and amateur poet based in Cebu City, Philippines. He works with The Stray Poets, a collective of spoken and page poets and performers dedicated to popularising poetry in Cebu. [
Auditory Cortex
]

Goh Cheng Fai Zach was born in Ipoh, Malaysia, where he lived all his life before moving to Penang to study English Language and Literature at Universiti Sains Malaysia, where he received his BA. He then completed his MPhil at the University of Hong Kong, researching the representations of trauma and memory of the Japanese Occupation in 21st century Malaysian novels in English. Zach is currently a PhD student at the Department of Humanities and Creative Writing at Hong Kong Baptist University, and his research interests include Malaysian, Singaporean and Hong Kong literatures in English, as well as the literary representations of Chinese tea culture in overseas Chinese communities. [
Book Reviews
]

Grace Chia is the author of two poetry collections,
womango
and
Cordelia
, a short story collection,
Every Moving Thing That Lives Shall Be Food
, a novel,
The Wanderlusters
, two nonfiction books and was the editor of the anthology,
We R Family
. Her work has been anthologised in Singapore and abroad, including the
Anthology of English Writing in Southeast Asia
,
Singapore Literature in English
,
Mining for Meaning
,
Fish Eats Lion
,
A Luxury We Cannot Afford
,
From Walden To Woodlands
,
UnFree Verse
,
Quarterly Literary Review Singapore
, Poetry.sg,
HOW2
,
Blue Lyra Review
, SingaporePoetry.com,
Lyrikline
,
Stylus Poetry Journal
, and has been translated for
die horen
(Germany),
La Traductiere
(France) and
Knijzevne Novine
(Serbia). The inaugural NAC-NTU Writer-in-Residence for 2011-2012, she has taught creative writing, mentored emerging writers and judged national poetry competitions. [
Film Reviews
]

Grace Loh Prasad was born in Taiwan and raised in New Jersey and Hong Kong before settling in the San Francisco Bay Area. She received her MFA in Creative Writing from Mills College and is an alumna of the VONA Voices Summer Writing Workshop and residencies at Hedgebrook and the Ragdale Foundation. Her essays have appeared in
Catapult
,
Ninth Letter
,
The Manifest-Station
and
Hedgebrook Journal
. Prasad is a contributor to the anthology
Six Words Fresh Off the Boat: Stories of Immigration, Identity and Coming to America
, and is currently working on a memoir entitled
The Translator's Daughter
. [
Lost Teas
]

Born Kawahata Seiichi on December 9, 1893, in Osaka, Hirato Renkichi started writing poetry in 1912, first publishing in Banso under the guidance of Kawaji Ryuko. Although he worked at various publishers as a writer and editor, he suffered from pulmonary disease and often failed to make ends meet for his family. He passed away on July 20, 1922, in Tokyo, at the age of 29. [Creative non-fiction
1
|
2
|
3
]

Born in 1983, Hu Jiamin 胡嘉岷 grew up in Yichang, China by the Yangtze River. After graduating with a degree in biology in 2006, his love of art, his recognition of his particular aptitude for painting, and his doubts towards biology led him to abandon the former to pursue his passion. From 2007 to 2009, he worked in an art studio in the countryside of Yunnan where he assisted other artists and began developing his own practice. His experiences in rural China profoundly influenced his sense of artists' social responsibility. In 2010, he returned to the city (in Shanghai and Beijing), where his work continued to evolve, enriched by the cultural resources at hand and his encounters with the social complexities of metropolitan life, as he devoted himself to a number of projects in various media (painting, design, writing), both individual and collaborative. He moved to Lyon, France in early 2016. His work explores the connections between manifold different mediums (painting, cinema, music, literature, etc.) as well as his experience of the relations between East-West, past-present and memory-reality. [
Artist Statement
|
Art
]

Ilaria Maria Sala is an award-winning journalist and writer. She has been living in East Asia since 1988, and calls Hong Kong home. Sala has written for a number of international publications, from
Le Monde
to
The New York Times
. She is currently a columnist for
Hong Kong Free Press
, and writes regularly for
Quartz
. She is the author of two books in Italian, and is on the Executive Committee of
PEN Hong Kong
. [
Book Reviews
]

Ivan Emil A. Labayne is a Filipino poet and critic based in Baguio City, northern Philippines. His creative and critical works saw print in journals such as
Kritika Kultura
,
Daluyan Katipunan
,
Entrada
and
The Cordillera Review
. He is part of the art collective
Pedantic Pedestrians
, which is interested in the politics of experimenting with form. [
Auditory Cortex
]

Jane Weizhen Pan has collaborated with
Martin Merz
on translations of many works by contemporary Chinese writers. She first encountered Eileen Chang's work as a high school student in China and has been a devoted reader of her writing since. Pan is based in Melbourne, Australia, where her research focuses on early Chinese translations of English classics. [
Translation
]

Jason S Polley is associate professor of literary journalism, postmodern literature, and poststructuralism at Hong Kong Baptist University. Since his BA in English and Religious Studies at the University of Lethbridge he has lived, worked, and traveled to places including China, Canada, Colombia, India, the Philippines, Indonesia, Malaysia, and Micronesia. He divides his time between reading, scuba diving, practicing yoga, and skateboarding. His research interests include post-WWII graphic forms, media analysis, Hong Kong Studies, and Anglo-Indian fiction. His creative nonfiction books are the travel-narrative collection
refrain
and the literary journalism novella
cemetery miss you
. One day he'll be a birder. [
Book Reviews
] [
Cha Profile
]
Jennifer Feeley's original writings and translations from the Chinese have appeared in numerous journals and anthologies, including
FIELD
,
Epiphany
,
The Taipei Chinese PEN
,
Chinese Literature Today
, PEN America's
Glossolalia
,
Chinese Writers on Writing
, and
Creating Across Cultures: Women in the Arts from China, Hong Kong, Macau and Taiwan
. She is the translator of
Not Written Words: Selected Poetry of Xi Xi
(Zephyr Press and MCCM Creations, 2016), for which she won the 2017 Lucien Stryk Asian Translation Prize and which received a 2017 Hong Kong Publishing Biennial Award in Literature and Fiction. Additionally, with Sarah Ann Wells, she is the co-editor of
Simultaneous Worlds: Global Science Fiction Cinema
(University of Minnesota Press, 2015). Currently, she is translating a collection of short stories by Shi Tiesheng for Polymorph Editions. [
Translation
]

Jeremy Tiang has translated more than ten books from Chinese, including novels by Zhang Yueran, Chan Ho-Kei and Yeng Pway Ngon, and is the recipient of a PEN/ Heim Grant, an NEA Fellowship, and a People's Literature Prize Mao-Tai Cup. His translation of Un Sio San's
"Anti-Love Poem For The Twenty-First Century"
appeared in Issue 33 of
Cha
. Tiang is also a playwright and fiction writer, most recently of the novel
State of Emergency
. He lives in Brooklyn. (Photograph © Oliver Rockwell) [
Translation
]

Joanna Lee is a young Singaporean writer and aspiring scholar of Chinese and Comparative Literature. She graduated from Columbia University in 2016 with a BA in Comparative Literature, and currently works at Yale-NUS College as Dean's Fellow. She hopes to continue telling stories, and she believes that fiction plays an important role in interrogating the narratives and myths that anchor us in our identities and communities. She is also interested in translation as a mode of reading and creation. (Photograph © Detmer Kremer) [
Fiction
]
In 2017, Kate Rogers' poetry collection,
Out of Place
(Aeolus House–Quattro Books), debuted in Toronto, Hong Kong and at the 2017 Singapore Writers Festival. Rogers was shortlisted for the 2017 Montreal International Poetry Prize. Her poetry is forthcoming in
Catherines, the Great
(Oolichan) and has appeared in
Twin Cities: An Anthology of Twin Cinema from Singapore and Hong Kong
(Landmark Books, 2017);
Juniper
;
OfZoos
;
the Guardian
;
Asia Literary Review
;
Morel
;
The Goose: a journal of Arts, Environment and Culture
;
Kyoto Journal
and
Asiatic: An International Journal of Asian Literatures, Cultures and Englishes
. She lectures in literature and media studies at the Community College of City University. [
Book Reviews
] [
Cha Profile
]

Kevin Tan Kwan Wei currently contributes articles to
Your Commonwealth
, a youth blog supported by The Commonwealth Youth Programme. He has served as a volunteer judge for The Queen's Commonwealth Essay Competition, and is one of the inaugural participants of the Young Critics Mentorship Programme. He was recently awarded the Leading Change Journalism Bursary 2017 by the Queen Elizabeth Diamond Jubilee Trust. [
Book Reviews
]

Kylla Ruth Benlot is an 18-year-old iving somewhere in the province of Zamboanga del Norte, Philippines. She's on her fourth year as an Engineering student at Western Mindanao State University, Zamboanga City. [
Auditory Cortex
]

Lucas Klein is a father, writer, translator, and Assistant Professor at the University of Hong Kong, whose work has appeared in
LARB
,
Jacket
,
Rain Taxi
,
CLEAR
,
Comparative Literature Studies
, and
PMLA
, and from Fordham, Black Widow, Zephyr, Chinese University Press, and New Directions. His translation
Notes on the Mosquito: Selected Poems
of Xi Chuan won the 2013 Lucien Stryk Prize, and his
October Dedications
, translations of the poetry of Mang Ke, is now available. New York Review Books will be publishing his translations of Tang dynasty poet Li Shangyin, and his monograph,
The Organization of Distance: Poetry, Translation, Chineseness
, is forthcoming from Brill. Visit his
website
for more information. [
Translation
] [
Cha Profile
]

Maja Milatovic teaches at ANU College, Canberra, Australia. She holds a PhD in English Literature from the University of Edinburgh (UK) and an MA in Postmodern Fiction from Aberystwyth University (UK). Her current research is located at the intersections of international student education, human rights and decolonising methodologies. She is passionate about literature and its ability to facilitate social change, community engagement and the use of educational technologies. Her publications can be viewed on
her Academia page
. [
Book Reviews
]

Mark Stevenson 史麻稞 is Adjunct Associate-Professor in Anthropology at The Chinese University of Hong Kong, and Honorary Fellow, Victoria University, Melbourne. He is co-editor and translator of
Homoeroticism in Imperial China: A Sourcebook
(Routledge, 2013), and co-editor of
Wanton Women in Late-Imperial Chinese Literature
(Routledge, 2017). [
Book Reviews
]

Martin Merz studied Chinese at Melbourne University and later received an MA in applied translation in Hong Kong. He moved to Asia in 1980 has worked in greater China ever since. In addition to his co-translations with
Jane Weizhen Pan
, he translated the modern Peking Opera
Mulian Rescues His Mother
, which was performed at the Hong Kong Fringe in the early 1990s. [
Translation
]
Matt Turner's writings can be found in
Seedings
,
Hyperallergic Weekend
,
Los Angeles Review of Books China Channel
and
Bookforum
, and he has translated or co-translated Lu Xun, Chan Chi Tak, Yan Jun and Hu Jiujiu. He lives in New York City. He serves as the guest prose editor for Issue 39 (April 2018) of
Cha
. [Book Reviews
1
|
2
] [
Cha Profile
]

Michael Tsang is a native of Hong Kong, and holds a PhD from the University of Warwick, researching on Hong Kong English writing. His broader research interests are on postcolonial and world literature with an Asian focus. He writes stories and poems in his spare time, and is always interested in languages, literatures and cultures. Tsang is a Staff Reviewer for
Cha
and a co-editor of
Hong Kong Studies
(Chinese University Press). Visit his
Warwick profile
for more information. [
Book Reviews
] [
Cha Profile
]
Miriam Bird Greenberg is the author of
In the Volcano's Mouth
, winner of the 2015 Agnes Lynch Starrett Prize, and
All night in the new country
. Recipient of fellowships from the US National Endowment for the Arts, the Fine Arts Work Center, and the Poetry Foundation, she has written about nomads, hitchhikers, and hobos living on America's margins, and is currently at work on a fieldwork-derived manuscript about the economic migrants and asylum seekers of Hong Kong's Chungking Mansions. A former Wallace Stegner Fellow, she was the 2017 Creative Writing Resident at the National University of Singapore.
The two poems published in Issue 39 of Cha
are part of a longer sequence examining rural-to-urban migration along a short stretch of the Tea-Horse trade route, which runs from Yunnan province to Bengal. [
Poetry
]

Ng Kum Hoon 吳錦漢, born and reared in Singapore, teaches translation and Chinese history/literature at the National University of Singapore. Apart from over 100 movie reviews, he has published more than 200 original articles, short stories, poems and translations in English and Chinese, scattered across
Parabola
,
Lianhe Zaobao
and various other publications from Singapore, China, USA, and elsewhere. He has also humbly received a number of literary prizes and awards from different countries, including Singapore's national-level Golden Point Award (twice). He is perennially spread too thin over an ever-growing sprawl of scholarly and aesthetic interests from Japanese animation to Sufi mysticism. [
Auditory Cortex
]
Ng Mei-kwan 吳美筠 is a well-established Hong Kong writer with substantial experience in both creative and media writing. Her first poetry collection won an award as Outstanding Entry in the First Hong Kong Biennial Award for Chinese Literature in 1990. Her writing has been published in both Taiwan and Mainland China as well as in Hong Kong and has also been translated into English for publication in Hong Kong and in Australia. Major publications include
Love Karaoke
[short stories] (2006),
The Fourth Morning
[poetry] (1998), and
We Are So Close
[poetry] (1990). Her second collection of short fiction,
Clumps on the Angel's Head
(2009) won an Entry Award at the Hong Kong Golden Publications Awards sponsored by the Association of Christian Publishers. Ng graduated as BA in Chinese literature, language and philosophy at the University of Hong Kong and as PhD in classical Chinese literature at the University of Sydney. She has taught at Hong Kong University, Lingnan University, Hong Kong Baptist College (now HKBU) and the Open University of Hong Kong. Her research interests are classical and contemporary Chinese literature, women's writing, and Christianity in Chinese literature. [
Poetry
]
Phoebe Tsang is a British-Canadian poet, author, librettist and playwright whose artistic practice favours interdisciplinary collaboration and improvisation as a vehicle for composition and performance. She is the author of the full-length poetry collection
Contents of a Mermaid's Purse
(Tightrope Books), and her libretti have been commissioned by the Toronto Symphony Orchestra, Canadian Sinfonietta, Talisker Players, and Hamilton Philharmonic Orchestra. Her play in progress,
I Am Not Iphigenia
, was selected for the 2018 Gros Morne Playwrights' Residency (Canada). In 2017, she was awarded an Artist Residency at the Jack Straw Cultural Center (Seattle, WA) to record
Button Music
, a collection of poetry and song. [
Poetry
]

Poornima Laxmeshwar lives in Bengaluru and works as a content writer for a living. Her poetry has recently appeared in
The Sunflower Collective
,
Vayavya
,
The Stockholm Review
,
Indian Periodical
,
The Lake
and
Kitaab
, amongst other places. [
Poetry
]
Rae Rival teaches creative writing at the Philippine High School for the Arts. She co-founded
Gantala Press
, an independent, feminist literary press. The press publishes political works by female writers and does volunteer work for organisations such as Amihan National Federation of Peasant Women. Rival's poems and stories have appeared in
Danas
,
UP Likhaan Journal
,
Liwayway
and
Philippines Graphic
. She has a picture book, a chapbook of essays and a number of do-it-yourself zines. She is a recipient of a Carlos Palanca Award and holds a Master's Degree in Communication Arts from the University of the Philippines, Los Banos. [
Auditory Cortex
]

Author of
The Arithmetic of Breasts and Other Stories
and
Four Degrees of Separation
, Rochelle Potkar is the alumna of Iowa's International Writing Program, and Charles Wallace Writer's fellowship, Stirling. She was the winner of the 2016 Open Road Review story contest for "The leaves of the Deodar". Her story "Chit Mahal" (The Enclave) appears in
The Best of Asian Short Stories
(Kitaab International). Her poem "The girl from Lal Bazaar" was shortlisted for the Gregory O' Donoghue International Poetry Prize, 2018. Her book
Paper Asylum
is due in May 2018 from Copper Coin Publishing. Her poem "Skirt" has been adapted into a poetry film by Philippa Cousins (UK) for the Visible Poetry Project 2018, USA. Visit her
website
for more information. [
Auditory Cortex
]

Shobhana Kumar has two collections of poetry,
The Voices Never Stop
and
Conditions Apply
, published by Writers Workshop Kolkata. She has also authored six works including biographies and industrial histories in South India. Her work has appeared in several journals and magazines and anthologies, the most recent being
All the Worlds Between
(ed. K. Srilata and Fiona Bolger, Yoda Press, 2017), a collaborative project between Indian and Irish poets. In her everyday life, she hopes to build a better world for the elderly, abandoned and works with the transgender community. [
Auditory Cortex
]

Stephanie Lee is a designer and visual artist based in Hong Kong. Her photographic work explores the nuances of architecture and the stories that are told through everyday settings that become the backgrounds of our lives. Her critical examination of three dimensional space creates a quiet reflection of the culture, history, and aesthetic of an object under a curious gaze. By capturing these architectural forms, she gives the viewer a moment in which to peer into a still world, and question how we have arrived at this point. [
Photography
]

Susan Bernofsky teaches literary translation in the MFA Writing Program at the Columbia University School of the Arts. She has published translations of works by Robert Walser, Jenny Erpenbeck, Yoko Tawada, Hermann Hesse, Franz Kafka, and others, and is currently writing a biography of Robert Walser for Yale University Press. Visit her
website
for more information. (Photograph © Caroline White) [
Translation
]

Tarō Naka (1922-2014) was a post-war Japanese poet and winner of the Saisei Murō, Yomiuri, Contemporary Poets, Tōson Memorial, and Japanese Arts Academy poetry prizes. His poetry is characterised by its mixture of avant-garde techniques and allusions to Buddhism, Kyoto School philosophy, modern art, and classical Japanese literature. In addition to his poetry, he has written a nō play,
Shikōtei
("The First Emperor," 2003), and is also known for his critical work on the modern Japanese poet Sakutarō Hagiwara. [
Poetry
]

Vivian Tang is a writer, daydreamer, crafter and teacher. She is currently reading Frank McCourt's autobiographies, Ernest Cline's
Ready Player One
, John Yorke's
Into the Woods
and John McPhee's
Draft No. 4
. She can be found chipping away at her sci fi novel from a decade ago on the identity of work in the Hong Kong community, encouraging her fellow writers in weekly Meetups and, just for fun, binding journals. She holds an MFA in Creative Writing from City University of Hong Kong. Tang's journal and shop can be found
here
. [
Film Reviews
]

William Masters is a San Francisco writer. "Acculturation," published in Issue 39 of
Cha
, is from his unpublished collection,
Portraiture: A San Francisco Story Cycle
. [
Fiction
]

Wong Kwok Kui 黃國鉅 is Associate Professor at the Department of Humanities and Creative Writing. He received his PhD in Philosophy from University of Tübingen, Germany. His research interests are Nietzsche, Schelling, hermeneutics, the problem of time and poetics, and theatre aesthetics. His latest publications include the book
Nietzsche: from Dionysus to Übermensch
, and many other articles. As a playwright he has also staged more than ten plays, the genres of which vary form Noh-theatre, Greek tragedy adaptations to chamber plays. His recent works is a trilogy of Hong Kong history based on the merman legend Luting, covering the pre-history of Hong Kong up to 2016. [
Fiction
]

Wong Wen Pu enjoys the poetry of T. S. Eliot and the fiction of Virginia Woolf. [
Book Reviews
]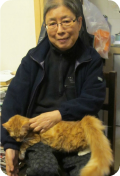 Xi Xi 西西 (also known as Sai Sai), pseudonym of Cheung Yin, is
one of Hong Kong's most beloved and prolific authors
. She began writing during the late 1950s and is the author of more than thirty books of fiction, poetry, and nonfiction, as well as numerous newspaper and magazine columns and screenplays. After she won Taiwan's prestigious United Daily fiction prize in 1983 for her short story "A Woman Like Me," her fame catapulted throughout the Sinophone world, where she has continued to cultivate an enthusiastic readership.
Asia Weekly
praised her novel
My City
as one of the best 100 Chinese-language novels of the twentieth century, and the
China Times
selected her semi-autobiographical novel
Mourning a Breast
as one of the best ten books of 1992. She was named Writer of the Year for the 2011 Hong Kong Book Fair and is the recipient of Taiwan's 2014 Hsing Yun Global Chinese Literary Award, among many other distinctions, and her work has become part of Hong Kong's official high school curriculum in Chinese literature. Her recent books include the novel
My Georgia
and the award-winning essay and photograph collections
The Teddy Bear Chronicles
and
Chronicles of Apes and Monkeys
. Her literary career is the subject of Fruit Chan's 2015 documentary film
My City
. [
Fiction
]

Yoko Tawada—"strange, exquisite" (
The New Yorker
)—was born in Tokyo in 1960 and moved to Germany when she was twenty-two. She writes in both Japanese and German and has received the Akutagawa Prize, the Adelbert von Chamisso Prize, the Goethe Medal, and the Tanizaki Prize. (Photograph © Nina Subin) [
Fiction
]
Zou Jingzhi (b. 1952) is an acclaimed Chinese playwright, poet and prose writer. Extremely influential as a poet in the 1980s, he has continued to shape public opinion in China more recently through his stage productions and screenplays, including
The Grandmaster
(dir. Wong Kar-Wai) and
Riding Alone For Thousands of Miles
(dir. Zhang Yimou). He is a founding member of the theatre collective
Longmashe
, which regularly produces his plays. Zou is a member of the Chinese Writers Association and a resident writer of the Beijing Writers Association. [
Fiction
]