Interview / June 2016 (Issue 32)

Keki Daruwalla on Poetry and Protest in India
by Usha Akella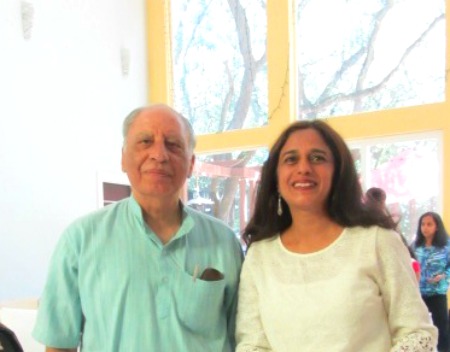 Keki Daruwalla is one of the most eminent figures in Indian English poetry, and he has also held various roles in government. He has published ten volumes of poetry, two novels, five collections of short fiction and countless op-eds and newspaper columns. He has been a political analyst and is perceived as a sane voice on international affairs.
In 1958, when Daruwalla was twenty-one years old, he joined the Indian Police Service. In the years since, he has served in several high-level government positions, including as a special assistant to India's Prime Minister Charan Singh in 1979. He was a Visiting Fellow under the Colombo Plan to Queen Elizabeth House, Oxford (1980–81). He retired as a Secretary, Govt. of India (Chairman JIC) in 1995.
Daruwalla has won a number of prestigious literary awards. He received the Sahitya Academi Award (the Sahitya Academi is India's Academy of Letters) in 1984 for his poetry volume The Keeper of the Dead, and the Commonwealth Poetry Prize for Asia in 1987 for Landscapes. He was awarded the Padma Shri, India's fourth highest civilian award, in 2014.
Daruwalla has been an outspoken critic of the recent turbulent political situation in India. After Professor M.M. Kalburgi, the scholar, author and progressive voice from the state of Karnataka was shot dead at the front door of his house in the fall of 2015, the silence of the Sahitya Academi drew the ire of the literary community. Daruwalla, along with forty other writers, returned the literary awards they'd received from the Sahitya Academi in protest. This was followed by protests from historians, scientists and film personalities and sparked debate across the country.
Usha Akella: Do you think democracy and secular freedom for writers is particularly endangered in India even today? As far back in 1980 in "Rhapsody on a Hungry Night" from Winter Poems you wrote:
We move to Satara/Gulbarga, Goalpara? / Or some place in Sahara / several nightmares / removed from reality […] / What place are we going to? / What deserts of reason, / stretch upon arid stretch, /where one side harangues, / Democracy in danger!
Keki Daruwalla: Those lines are from a poem responding to a political situation in 1975. I published an entire section of poems on Mrs Gandhi's notorious emergency after she came back into power in 1980. (The Indian Emergency was a twenty-one-month state of emergency declared by Prime Minister Ghandi in 1975, during which civil liberties were curtailed.)
India is blessed with probably the most tolerant and easy going majority community (Hindu) in Asia. The Zoroastrians from Persia, Parsis like myself, got sanctuary in Gujarat a thousand years back. And the Indian constitution has stood up for minority rights—something that speaks of both tolerance and courage, seeing that it was brought into being a few years after the bloodletting of the Partition of the country in 1947. Lately, some fringe elements surrounding the rightist political party in power (the BJP—Bharatiya Janata Party which won a thumping victory in the last elections) are confusing nationalism with the Hindu community and their beliefs.
Today, the ideology of some hotheads of the far right is troublesome. Some states like Haryana have promulgated stringent laws against beef-eating. This time I protested against the Academy of Letters for not standing up to a rightist organisation, Sanatan Sanstha which was thought to be responsible for the death of three free-thinkers—Narendra Dabholkar, Govind Pansare and M.M. Kalburgi—all rationalist Hindus. The family of Kalburgi, an awardee of the academy, stated that they hadn't even received a condolence message from the academy. The one way writers could protest was by returning awards. We have nothing else to throw at authority.

UA: It seems like your poetry cannot escape the political urgency of the moment. What else propels you onward?
KD: My last poetry book "Fire Altar: Poems on the Persians and Greeks" was about the histories of the Persian empire. I find I have two volumes on hand—one, poems on birds, the Buddha and others which I intend naming after the poem "Naropa's Wife." The second volume would take on wide-ranging political poems including Jerusalem, the assassination of the journalist Anna Politkovskaya who wrote against Putin, the mass killing of Sikhs in November 1984 after the murder of Mrs Indira Gandhi by her Sikh bodyguards, among other issues.
UA: India's quest for political freedom from colonial times has used poetry as an outlet in the country's varying regional, vernacular and oral traditions. What's happening in Indian English poetry and protest today?
KD: The anti-colonial drum has long since been sent to the cleaners and rightly so. It was mostly beaten by our language writers. Indian poetry in English is pretty self-obsessed. It looks at itself in a slightly wonky mirror and smiles. (Never mind if the mirror frowns.)
UA: So poets are not the "unacknowledged legislators [of the world]," as Shelley claims?
KD: They never were. Poets would do well to "legislate" their own verse. Free verse is like an unleashed hound with the fox nowhere in sight. Poetry has become somewhat elitist; poets writing to and for others of their ilk. Sorry to be in a cussed mood today, but I think poets are acknowledged nobodies.
UA: You write political novels, op-eds, columns and poetry. How do narratives change in those realms?
KD: Each genre has its own dharma, its own narrative. I don't much hold with poetic prose or prose poetry. I wrote some committed poetry once, but then grew out of it. For years, I wrote on international affairs, more so on insurgencies and terrorism. Poetry would do well to steer clear off this minefield. Now and then, politics would intrude into a poem. My poem "To a Palestinian poet" (to Mahmoud Darwish) ended with the lines, "May they never drive your children into the desert / and may your children never drive them into the sea."
UA: You are going to hate this—but there's the prophetic—in more than a few poems in your work. You can't help but take on the big voice, the Eliotian view of the Wasteland. Do you agree?
KD: No, no, no, no. Prophets must have their habitats—locusts and deserts, with an elusive oasis which goes by the name of paradise (spuriously promised). These guys, or rather their half-blind followers, also need heresies (what good is a religion if it can't spark off even a heresy.) I live in Delhi, acknowledged as the most polluted city in the world. You need face masks here, not prophets. But definitely poets.