Reviews / December 2014 (Issue 26)

Bengal Feminist: The Essential Rokeya: Selected Works of Rokeya Sakhawat Hossain
by Elen Turner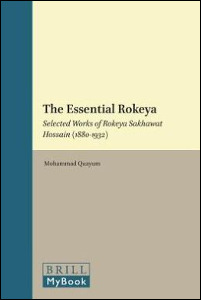 Mohammad A. Quayum (editor and translator), The Essential Rokeya: Selected Works of Rokeya Sakhawat Hossain (1880–1932), Brill, 2013. 200 pgs.

Born in 1880 in what is now Bangladesh, and having died in Calcutta in what was still undivided British India in 1932, Rokeya Sakhawat Hossain (whose name can be spelt in a variety of ways) has come to be known as one of Bengal's first feminists. She is particularly known as one of its first Muslim feminists, especially for writing Sultana's Dream, a "utopian" novella in which women rule and men are kept in purdah. With The Essential Rokeya: Selected Works of Rokeya Sakhawat Hossain, editor and translator Mohammad A. Quayum adds to the body of scholarship on this interesting figure, with some previously-untranslated essays, articles, letters and extracts in translation from Bangla as well as some that were originally written in English. Quayum describes the inclusions as some of Hossain's best works.
Like other pre-Independence Indians (such as Nobel Laureate Rabindranath Tagore), Hossain can comfortably and rightly be claimed by contemporary Indians and Bangladeshis. Her Islamic faith, however—which she practiced devoutly—makes her an especially interesting figure for modern-day South Asian Muslims, because, almost a century ago, she was entering into debate a topic that has certainly not gone anywhere since—purdah and the veil. Hossain herself practiced purdah stringently, so her feminist credentials cannot be equated with many contemporary beliefs. However, she advocated for women not to be otherwise disadvantaged by the practice that she did consider necessary for Muslim women: that they be educated (in single sex schools) and allowed a say in how their society operated. What is interesting about Hossain is that she saw herself primarily as Bengali and a Muslim, not as Indian. As is very often the case in South Asia, regionalism trumps nationalism, and it is perhaps later commentators who have labelled her "Indian" or "Bangladeshi" or even both. In "Home," one of the translated pieces in this collection, Hossain gives examples from both Hindu and Muslim communities to show how Bengali women, despite their different religious identities, are equally helpless and equally dependent on men.
Hossain was a mistress of satire, and this is most evident in this collection in the "comical" vignettes that comprise "The Zenana Women." The author recounts a number of instances in which women in purdah have been treated unfairly, have been too timid to speak up for themselves, and the consequences of such behaviour and treatment has not only affected the women, but society as a whole. Hossain wittily describes a group of women who, in their black coverings, were mistaken for luggage on a railway station platform and kicked by an attendant, as well as a man who "loses" his shrouded wife on a train after returning from a trip to the bathroom—the wife had, in fact, been terrified when an strange man sat next to her in her husband's absence and so hid under her seat. Such stories may have a reader laughing aloud, but Hossain's message about the infantilisation and objectification—quite literally—of women in such a society is clear.
Much of the "fiction" in this collection is more akin to fable. For instance, in an extract from A String of Sweet Pearls, the Adam and Eve myth is rewritten, making it relevant to South Asia, and with some lovely imagery: "they had received a few knowledge-guavas along with the bitter-apples."
The early chapters of The Essential Royeka—comprising the editor's introduction and Hossain's distinctly non-fiction works—make this collection particularly useful or interesting to scholars interested in Hossain or in pre-Independence, Bengali or Muslim's women's writing. In fact, the entire collection reminded me of a number of other works published following Susie Tharu and K. Lalita's seminal Women Writing in India: 600 BCE to the Early Twentieth Century (Feminist Press at CUNY, 1993). While that work was much wider in scope, encompassing a large number of authors, and more broadly readable and appealing, The Essential Rokeya is reminiscent of many of what I have called, elsewhere, Women Writing in India's literary offspring: The Other Half of the Coconut edited and translated by K. Srilata (Kali for Women, 2003) [Malayalam translations of pre-1947 women's writings]; Women in Concert: An Anthology of Bengali Women's Writings, 1904–38 edited by Shaheen Akhtar and Moushumi Bhowmik (Stree, 2008); Early Women's Writing from Orissa 1898–1950 edited by Sachidananda Mohanty (Sage, 2005) or numerous others published by Indian feminist presses and academic publishers.
However, the non-scholarly appeal of The Essential Rokeya may be somewhat limited, especially if we consider that Penguin India have published Sultana's Dream and Padmarag: Two Feminist Utopias (2005), a collection of Hossain's best-known work, and the Feminist Press at CUNY have published Sultana's Dream and Selections from the Secluded Ones (reprint Kindle Edition, 2014). I do not point this out to criticise Quayum's scholarship or to state that it is unnecessary, because he includes new translations. However, if the lay reader is interested in learning about this author and reading her work, I would not necessarily suggest that The Essential Rokeya would be the best place to start. Many of the earlier chapters are quite dry, and although of interest to a literary historian, are not especially readable, being repetitive, full of long discursive footnotes (both the editor's and author's) and pertaining to topics that may be of limited interest to many readers today. But, as a work of scholarship, especially literary and historical translation, The Essential Rokeya is a welcome addition to its field.