Wang Zang / September 2014 (Issue 25)

by Wang Zang, translated by Jessica Yeung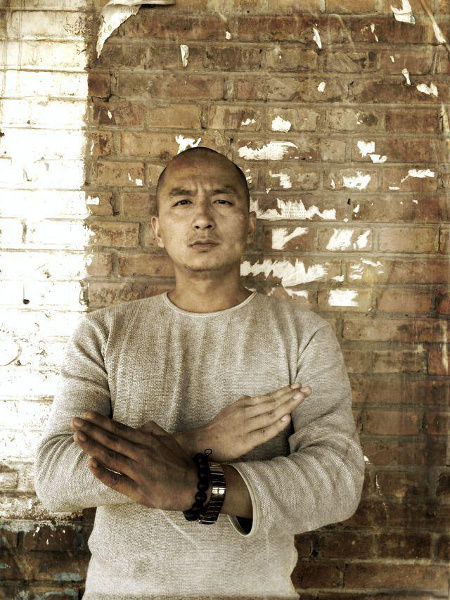 Wang Zang was born Wang Yuwen in 1985 in a rural area of Yunnan Province. He started publishing poetry in 2003 while still in university. His first penname was Xiaowangzi, The Little Prince. He has become prolific since 2006 and actively involved in the civil rights movement. In 2009, he changed his name to Wang Zang, with the Chinese character Zang denoting Tibet. He has also been a committed advocate for Tibetan rights. In 2012, he moved to the artist village of Songzhuang, in the eastern suburbs of Beijing. He is also a performance artist. Reports have quoted Wang's wife as saying that he was apprehended by police on the night of 2nd October 2014 on his way back home from a poetry event organised in support of Hong Kong's
Umbrella Revolution
. The police also confiscated his computer and a number of other computer related items. His is still being held in custody at a police station in Songzhuang.
《为夏俊峰送行》

更多的血已成雪成冰成铁
早已从墓群长出新鲜复枯黄的诅咒
今夜再添一名小贩因被城管暴打而正当防卫终被国家履带
压榨出的血

一位丈夫,终无力再捍卫爱人的尊严
一位父亲,终无法从孩子的画布走出拥抱孩子
一个儿子,终不能为父母养老送终

一个男人,以死深刻复仇的火焰

Valediction for Xia Junfeng

More blood has turned into snow, into ice, into iron.
Maledictions have flowered and withered among the graves.
Tonight the street vendor assaulted by the Chengguan*, who
defended himself, and then was detained by the state, makes
one.
The last drop of blood is squeezed from the body.

A husband cannot defend the dignity of his beloved.
A father cannot step out of the canvas to embrace his child.
A son cannot see his parents to their last hour.

A man makes death profound with the flame of revenge.


On 25th September, 2013, the day Xia Junfeng was executed.
(*The Chengguan in English is the City Urban Administration and Law Enforcement Bureau.)
《京城的鬼》

他们偷偷摸摸
躲避着截访者
不断地换电话卡
不断地被没收身份证和身上零钱
不断地在大都市找着阴暗角落栖身
不断地在火车上,地铁上,公交车上,大街上
被"不明身份者"打骂拖拉走
不断地被暴力对待,被羞辱

就这样日复一日
在贫苦中
蒙冤,受辱,上访,被截访,被威胁,被警告,被黑监狱,被暴力
出来后
又上访,又被截访,被威胁,被警告,被黑监狱,被暴力,蒙更多冤,受更多辱

"五星红旗迎风飘扬,胜利歌声多么响亮!"
The Ghost of the Capital
On the sly
They avoid being stopped on the way to the Capital to lodge their petition.
They keep changing their sim cards.
They keep getting their ID cards and the little money they carry confiscated.
They keep getting insulted, assaulted and dragged away
By those without names
On the train, in the tube, on the bus, in the street.
They keep facing violence and humiliation.
Day by day they live
In poverty and pain.
Wrongly accused. Mortified. Stopped on the way to the Capital. Threatened. Warned. Thrown into a black jail. Tortured.
Released.
Again to the Capital. Again stopped. Again threatened. Again warned. Again thrown into a black jail. Again tortured. More false accusations. More humiliations.
"The flag with five stars flies in the air. The song of victory sounds bright!"

《向快乐出发!向巴士底狱出发!》

真的
从今天起,做一个快乐的人
快乐维权,快乐言行
即便长久活在悲伤的土地

从此刻起,做一个希望的人
希望煤火,希望岩浆
就算一直活在绝望透顶的深谷

不用听那些强制灌输的
与快乐和做梦有关的歌及宣传
主动快乐,主动出击
在巴士底狱中,向巴士底狱出发

今晚,该伤感的你尽情伤感
该绝望的我们一起如黑夜
将绝望尽情吞噬,在胃肠的搅拌机里痛快粉碎

从明天起,真正做一个幸福的人
将坐牢当成快乐事而不是伤感事

享受好今天抗争的每一刻
从明天起,把监狱的牢底坐凹坐穿

从监狱的裂缝
如血,也如雪
喷溅出做人的尊严,做人的色彩!

Towards Happiness! Towards the Bastille!

Seriously,
From this day on, be a happy person.
Defend your rights happily, talk and act happily
Even though you live forever in the land of sorrow.

From this moment on, be a hopeful person.
Hope for coal fire, hope for lava
Even though you have lived forever in the valley of utter despair.

There's no need for the indoctrination
Of all those songs and propaganda about happiness and the dream.
Initiate happiness! Initiate attack
Within the Bastille. Toward the Bastille!

This night be sad, those of you who should be sad.
We who should despair like the darkest of nights
Will be devoured by despair itself,
Will be crushed in the stomach of the grinder, happily.

From tomorrow onward, live in true contentment
When living in jail is joy, not grief.

Now, every minute of our struggle must be enjoyed.
From tomorrow on, we'll go down in jail, all the way down.

Down to the finest crevice from where,
Like blood and like snow,
Human dignity and the colours of life burst through.