Remembrance / March 2013 (Issue 20)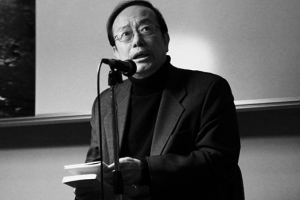 The Chinese-language literary world in Hong Kong came together to mourn the death of the writer, Leung Ping-kwan, also known as Yesi, who died of cancer on January 5, 2013. Since his untimely death, there have been many memorials, big and small, all over Hong Kong, a testimony to the extent of public recognition of his work and the best of Hong Kong he represented.
Leung Ping-kwan was born in Guangdong but grew up in Hong Kong. He began writing in the 1960s and quickly became known as the translator of foreign-language literatures and for his editorial work on a number of literary publications targeted at young Chinese readers in both Hong Kong and Taiwan. He played a major role in introducing an entire generation to the French nouveau roman, Latin American magic realist fiction and American underground literature. In his long and prolific career, spanning from the poetry collection The Thunderbolt and the Cicada Song in 1979 to the most recent Chinese Poems in Provence in 2012, Ping-kwan never turned away from his cosmopolitan beginnings. Writing in Chinese about Hong Kong life, his focus was always intensely local. As his fame grew, he became increasingly identified as the "authentic" Hong Kong literary voice. Indeed, he was well-known for comments about how Hong Kong Chinese literature had been marginalized, both by mainland Chinese writers and scholars who could only see it as peripheral and by western readers who could not see "China" beyond the mainland. But the pressures of authenticity and identity did not disorient or compress him so that he became exclusionary or provincial. From first to last, he remained open to literatures from different places and in different languages.
This openness was an expression of the curiosity he had about the world—the world he lived in, he travelled to, he read about. This curiosity developed texture and density as it led him to probe the details of everyday living and find in them unexpected provocations to thought. Nothing was too small or insignificant for poetry—his first medium and in many ways, his most accomplished. Whatever he took from life for art, he also gave back: inanimate objects took on his personality, streets and scenes came alive with his hospitality, Hong Kong became once more intriguing and ever more different because he invited us to look at it in the myriad ways he did. In these first weeks of his passing, it has been unbearable to read his poems because he is always there to remind those who knew him that he is gone. In the weeks and years to come, it will be that presence we meet in his poetry, which will speak to us about what having an identity, a particular Hong Kong identity, can possibly mean.
---

Also see: